College Devotee Restores the Chaplain's House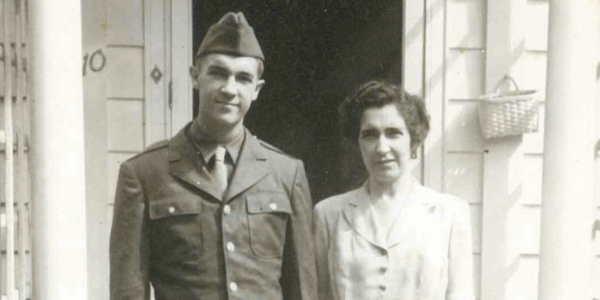 WHEN GLADYS WOODWARD HUBBARD GRADUATED from Sweet Briar in 1924, she couldn't possibly have imagined the profound impact the College would have on her son nearly a century later. Since 2007, Leverett Hubbard Jr. has made many substantial gifts to Sweet Briar in his mother's honor — including donating $500,000 to restore and maintain the Chaplain's House.
The building, constructed in 1937, was named Lancaster House in honor of the College's Business Manager, became a dorm during the early 60s and then housed the College chaplain in the mid 60s. It became known as the Chaplain's House until it was christened the "Hubbard House" at a special ceremony in October, 2013.
Hubbard, a World War II veteran and former teacher, says Sweet Briar has been a part of his life throughout the years — from the memories his mother shared, to his own experiences dating Sweet Briar women while he was a law student at the University of Virginia, to several of his Yale classmates' marrying Sweet Briar graduates, Hubbard and Sweet Briar crossed paths many times. All of those circumstances presented a pretty strong argument for supporting the College, he says.
"Once I was retired, I had the funds to do that," said Hubbard, who now lives with his wife Catee in a condominium community in New Hampshire.
Mr. Hubbard also established the Gladys Woodward Hubbard '24 Memorial Scholarship — a restricted scholarship with a total of $12,500 awarded annually to students from Connecticut, Massachusetts or New Hampshire. The first recipient, Holly Reuger, is a member of the Class of 2017.
Mr. Hubbard endowed the memorial scholarship fund with an additional deferred gift of $600,000. But he wanted to do even more for Sweet Briar: Hubbard wanted to bequeath valuable family heirlooms and antiques.
Hubbard agreed to donate $500,000 to restore and maintain it — combining current and deferred planned gifts, with $100,000 going toward the building's renovation. Hubbard's family treasures — including an antique silver service — are stored, preserved and displayed in the house. A portrait of his mother, who died in 2000, adorns the mantle in the main living room.
The house is used for many community activities that include students, faculty and staff as well as alumnae visitors on campus.